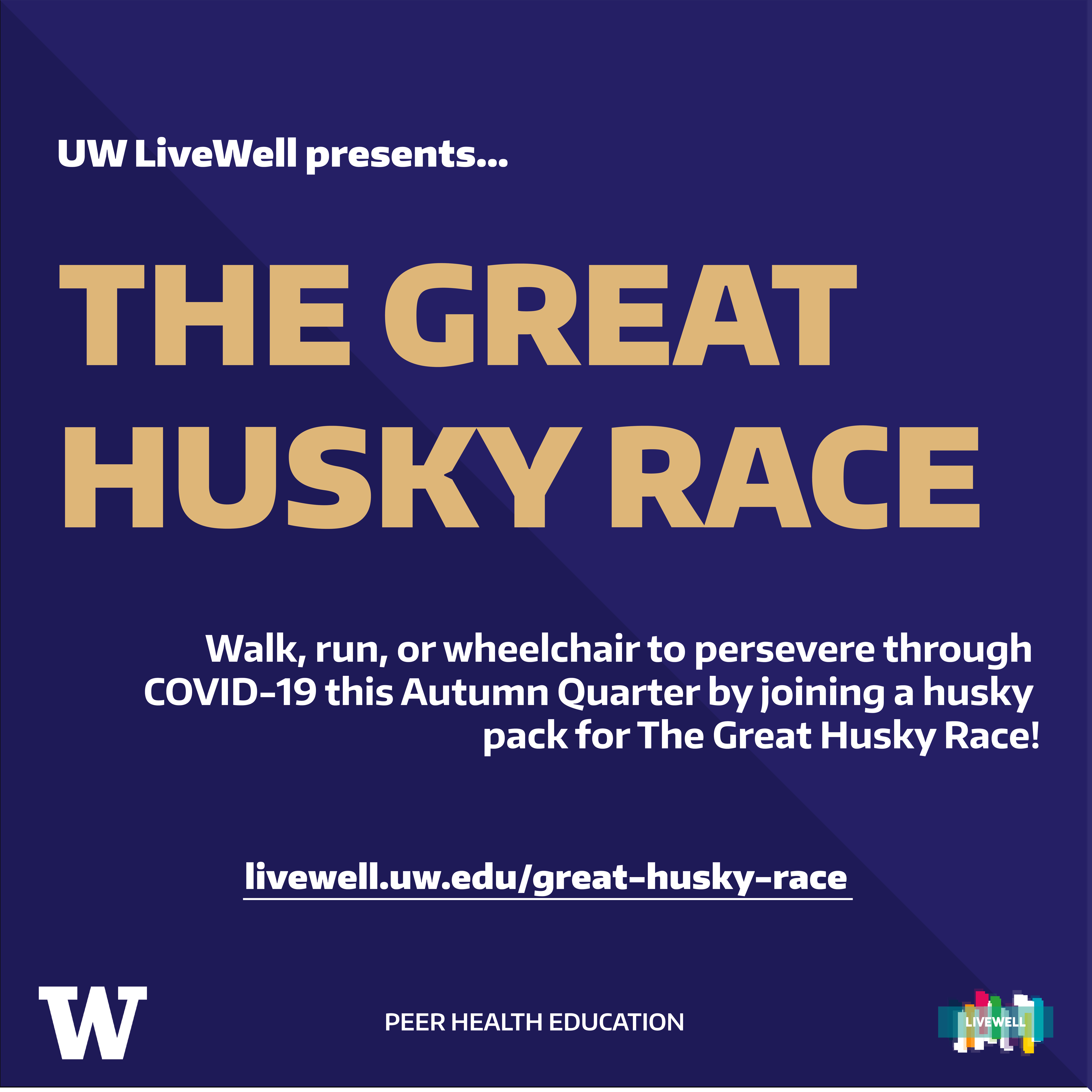 Throughout human history, we experience times of hardship that require us to work together to practice resilience, perseverance, and grit. As we begin the school year of 2020-21, our community of UW Huskies is no exception to the challenges and changes the COVID-19 Pandemic has brought to our planet and communities. It is in the spirit of resiliency, community, and perseverance that LiveWell & your Peer Health Educators bring you the "Great Husky Race through COVID."
Our Great Husky Race through COVID draws from the history of huskies and humans mushing and racing hundreds of miles through rugged winter terrain to bring necessary medicine and supplies to rural communities in the Northwest. One such time that the current Alaskan Iditarod is based on was the Serum Run to Nome, also known as the Great Race of Mercy, that occurred in 1925 during a diphtheria epidemic. Historical routes that huskies ran as sled dogs ranged from 400 to 1000 miles. More information about our inspiration and the history of The Great Race of Mercy and the Iditarod is at the bottom of the page.
During this COVID-19 Pandemic, we will come together in packs to power through the challenges of this time by engaging in community and using movement to foster emotional, physical, and mental resilience. Movement and belonging are two of the most effective ways to manage anxiety, depression, stress, and loneliness. By moving our bodies and engaging with others in our pack, we take care of our bodies, minds, and each other in playful, fulfilling, and healthy ways during the challenges of COVID-19 and remote learning. One of the best things to do for your mental and physical health is get off Zoom and screens, get outside (respecting the six feet CDC guideline), and move your body!
What is the Great Husky Race?
It's a VIRTUAL team contest of movement! All race communications, programming, and checkpoints are conduced virtually.
You can choose what distance you want to aim for as there are a variety of race trail options. You can walk, jog, run, wheelchair, or skip to get your movement logged in whatever device you care to use (watch, phone app, etc.).
Each week you and your Husky team will submit how much you walk/ran/wheelchair and a Peer Health Educator will add it up so that weekly totals and progress of your husky pack on the "trail" can be announced.
What do I do?
Once the Great Husky Race begins, start walking, running, and wheeling about! Shortly before the start of the race you will be assigned to a Peer Health Educator who will be your point of contact throughout the race. They will send you a link where you will submit your proof of movement every week. You can use a picture of your Fitbit, Garmin or Apple watch, or a screenshot of your phone that has tracked your distance for the day or week- and submit either daily or weekly.
At least once a week, we will release updates of where all the teams are in their progress and ongoing educational tips for holistic health and well-being.
Throughout the 12 weeks of this race and Autumn Quarter, Peer Health Educators will host (Virtual) Checkpoints that are optional for husky packs to attend to socialize with each other across teams, learn about health and wellness topics, and overall foster community.
Are there prizes?
This is a process oriented challenge, not product oriented. We want you to do it for the value of the journey rather than the end result. The practice of journey before destination is a foundational key to strengthening mental-emotional resilience and social well-being, and this is a great time to put it into practice. Being present and valuing the journey is mindfulness in action. That being said, we will have gifts and surprise swag to celebrate involvement and participation that will be revealed throughout the race.
How do I participate?
Registration is closed for the quarter, and all our Huskies are on the trail! Our 45 teams are mushing their way through COVID-19 and the end of 2020!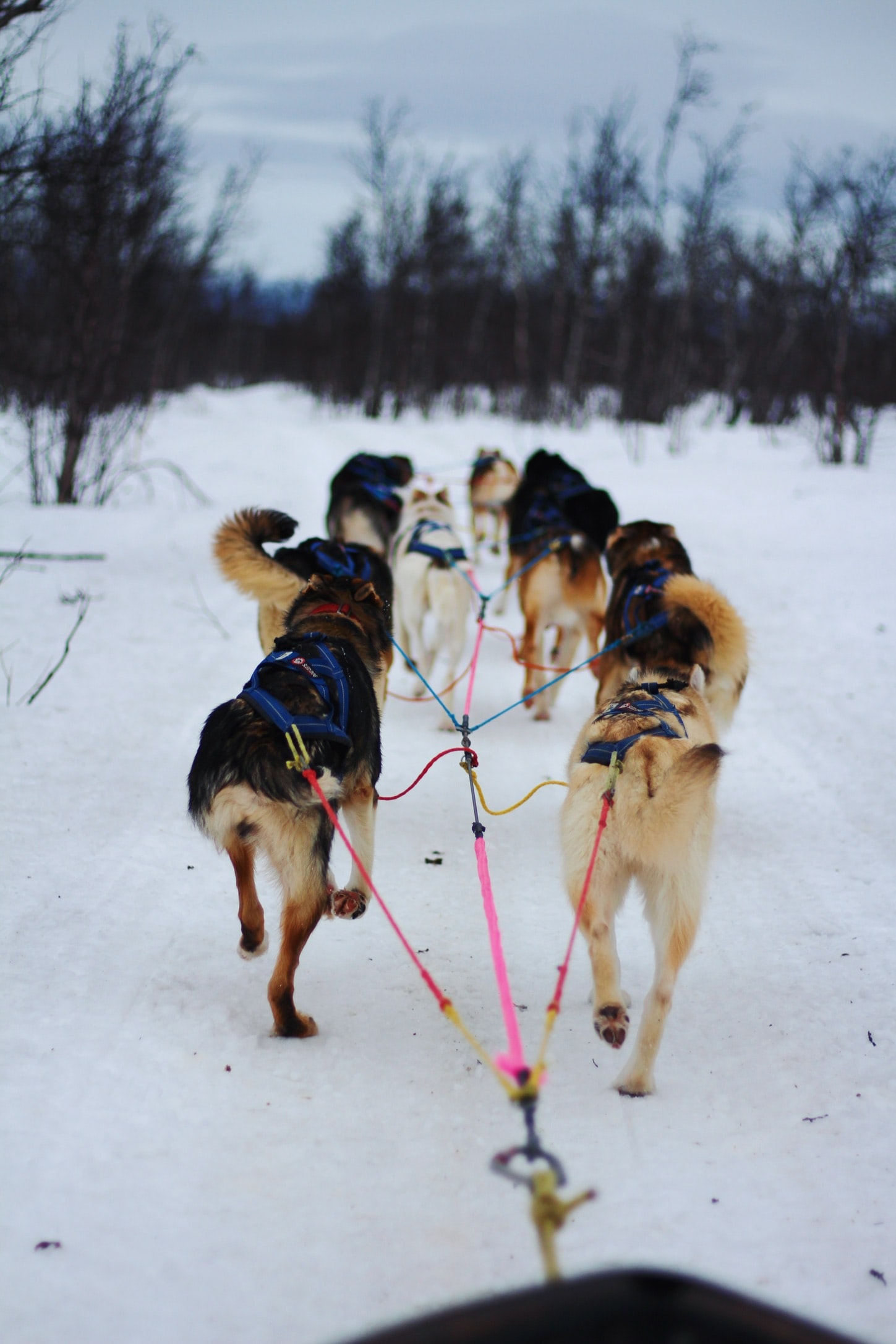 The inspiration…
"In January 1925 an outbreak of diphtheria threatened to wipeout the town of Nome, Alaska, sparking fears that an epidemic would spread and kill thousands if antitoxin medicine was not supplied. The antitoxin could only be delivered by dogsled across a portion of the Iditarod Trail, the only route accessible for transporting goods during the harsh winters. A heroic relay of Husky dog teams transported the antitoxin across the 674 mile trail from Nenana to Nome braving gale force winds, -85 degree temperatures, and whiteout conditions across the remote Alaskan Interior. The life-saving serum was delivered to Nome in a record-breaking 127.5 hours, without a single broken vial. This came to be known as the 1925 Serum Run. Many aspects of this journey are commemorated annually in the Iditarod dog sled race."
It is in the spirit of the 1925 Serum Run that we bring you the Great Husky Race of 2020 through COVID-19. To learn more about the history of the 1925 Serum Run (The Great Race of Mercy) run by Togo and Balto, read this.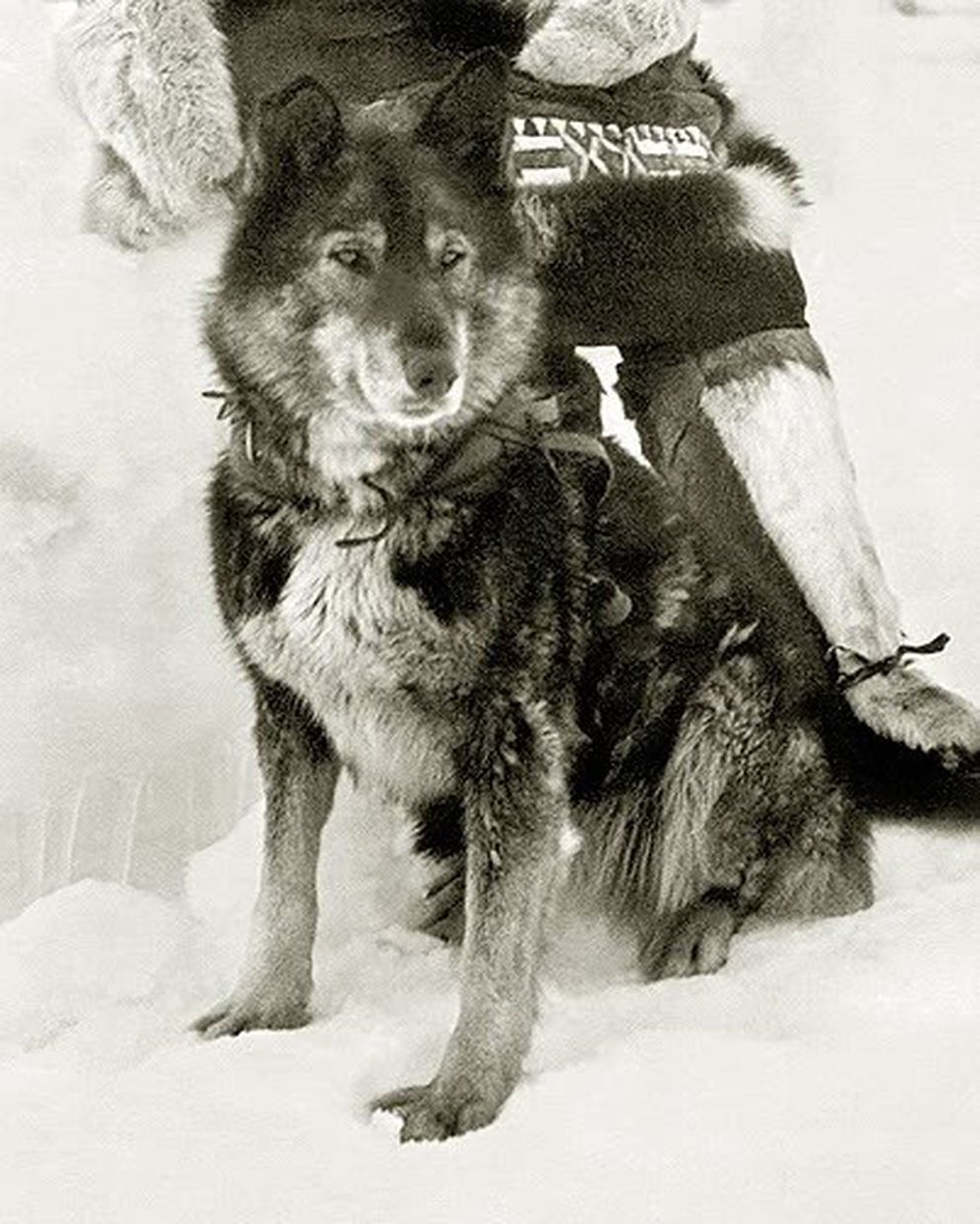 Please contact lwphe@uw.edu with any questions you may have about The Great Husky Race.